Klidkiks er tørre, grøntsager bliver man træt af, fantasien er slukket, og alle ved jo, at to plader Rittersport altid virker mod alting – og hurtigt. Du kan lige så godt give op..
ELLER:
Vær kreativ, bliv nysgerrig på din krop, find på mad, der giver nydelse.
Se muligheder og glæde ved din kostomlægning!!
Denne rødbedepesto eller rødbedespread kan det hele – prøv selv!
Tak endnu en gang til Helle for god opskrift.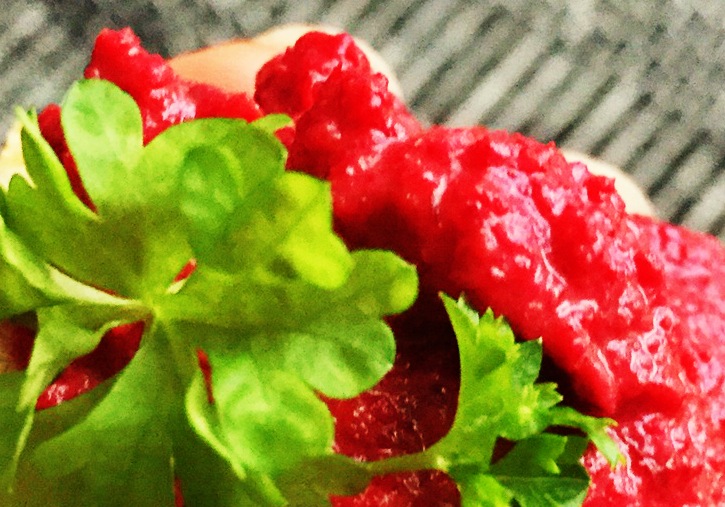 Rødbedepesto:
2 mellemstore rødbeder
2 fed hvidløg
100 gram mandler
100 gram Peccorino eller parmesan
½ dl god olivenolie
½ spiseskefuld citronsaft
Salt og peber
Fremgangsmåde:
Kog to gode, skrællede rødbeder sammen med to fed hvidløg indtil de er møre. (Jo længere du koger dem, jo mere cremet bliver pestoen, men den mister også lidt af farven.) Blend de varme rødbeder sammen med ca. 100g mandler, 100g ost og tilsæt en god olivenolie indtil pestoen har den ønskede konsistens. Smag til med citronsaft, havsalt og friskkværnet peber.
Rødbederne skal helst være varme, da de dermed binder ost og olie bedre sammen.
Bruges som dip, pålæg, sovs, dyppelse og hyggepynt på hvad som helst.
God fornøjelse!
Anne Seidelin – Certificeret Systemisk Coach – Onlinesamtaler
"…Jeg craver ikke slik som det første efter aftensmad længere og skal der kage eller slik på bordet, så kan jeg tage et overvejet valg om hvor meget jeg har lyst til at spise, i stedet for at køre alt for meget ind alt for hurtigt.

Jeg er begyndt at tænke over de valg jeg tager, både indenfor den mad der bliver serveret for mig, men også den mad jeg selv køber ind til og laver…" (se mere feedback her)